Below is an expanded presentation of Civil War Statistics.
The population numbers come from the 1860 census. A fascinating and extensive volume of information is available at http://www.census.gov/prod/www/abs/decennial/1860.html.
Men at Arms represent an estimate, especially on the Confederate side where historians can choose between estimates that range from 600,000 to 1,400,000. We have chosen the mid-point of these. James McPherson in Battle Cry of Freedom settles on a range between 850,000 and 900,000. E.B. Long in The Civil War Day by Day 750,000. Most Southern accounts tend toward the lower range. Estimates are based on census accounts of overall population and later records of surviving veterans. Union numbers are also estimates, since they are based on records of enlistments, but can't avoid double counting those who enlisted more than once.
Casualty figures are inexact due to generally unreliable record keeping, and a near-total loss of Confederate records after the war. The estimates used are those most commonly cited,  based on postwar analysis of regimental records, newspaper accounts, extrapolations from known records of individual battles and educated guesses. For more than a century, the statistics compiled by Thomas L. Livermore, himself a veteran of the war, have been accepted as a starting point for listing casualty figures. The fatalities listed below are his estimates. The estimates of soldiers wounded are those of historian Shelby Foote, as well as Long.
The Cost of War is in 1865 dollars, which is problematic for the Confederacy since it issued its own currency which could buy a dollar in gold for $1.10 in May 1861, but March of 1865 was worth 1/70 of its original value. The figures come from Long.
| | UNION | CONFEDERACY |
| --- | --- | --- |
| TOTAL POPULATION* | 22,080,250 | 9,103,332 |
| FREE POPULATION | 21,650,993 | 5,582,205 |
| SLAVES | 429,257 | 3,521,127 |
| FREE BLACKS | 355,310 | 132,760 |
| MEN AT ARMS | 2,625,000 | 1,000,000 |
| WEST POINT GENERALS | 217 | 133 |
| KILLED IN ACTION | 110,070 | 94,000 |
| DIED OF SICKNESS | 250,152 | 164,000 |
| WOUNDED | 275,000 | 194,000 |
| COST OF WAR | $6,190,000,000 | $2,099,800,000 |
*1860 CENSUS
Below is a comparison of the total war deaths incurred in each of the United States' major conflicts, according to the Congressional Research Service: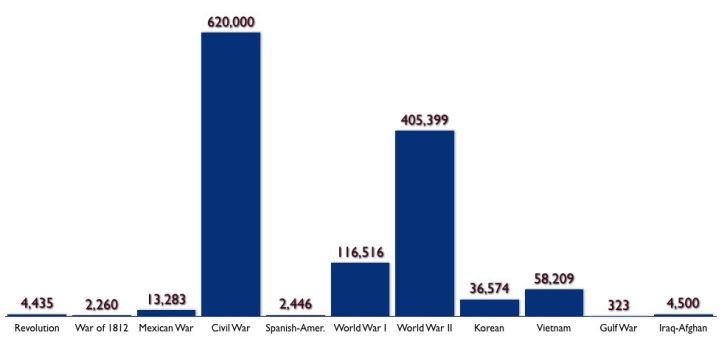 Below are several additional statistics that are worth considering:
| | | |
| --- | --- | --- |
| DIED WHILE CAPTIVE | 30,192 | 26-30,000 |
| GENERALS IN SERVICE | 583 | 425 |
| FATALITIES OF GENERALS | 65 | 92 |
| WARSHIPS (at peak) | 641 | 101 |
| HORSES | 4.200,000 | 1,700,000 |
| BANKING (deposits) | $207,000,000 | $47,000,000 |
| MANUFACTURING ($ Value) | $1,621,000,000 | $155,000,000 |
| FACTORIES | 100,500 | 20,600 |
| AGRICULTURE ($ Value) | $4,779,993,000 | $1,870,938,000 |
| RAILROAD MILES | 21,700 | 9,000 |
| SHIPPING VESSELS | 10,260 | 819 |
| SHIPPING TONNAGE | 4,602,868 | 286,445 |
| IMPORTS (1861) | $335,650,000 | $15,500,000(est.) |
| EXPORTS (1861) | $222,199,000 | $37,000,000(est.) |